Welcome to the College of Biblical Studies 2023-2024 Academic Year
The Office of Student Life and Career Services is pleased to welcome back our returning students and welcome our new students to our 2023-2024 academic year. We are back on campus, and we have planned some exciting on-campus and virtual events for you! 
We would like to welcome Debbie Harper to our Student Life team. Debbie is a CBS alum and is serving as the Alumni and Student Life Program Coordinator. In this role, she will assist with planning student life events.  We also welcome Betty Brown as our CBS Staff Representative on our Indiana Campus. In this role, she will assist our Indiana student council officers and members with hosting student life events in Indiana.
If you want to engage in real "college life", check out the student life calendar of upcoming fall 2023 activities, career services opportunities, chapel services, and volunteer opportunities on this webpage! 
We pray you and your families are doing well. Remember we are here for you, and we are always available to pray with you and for you and your family. Please send us your prayer request and let us know how we can pray for you. The links to our phone, email, and prayer request are located above.
Many blessings,
Dr. Lisa Stewart
Director of Alumni, Student Life & Career Services
Fall 2023 Upcoming Student Life Activities and Events Schedule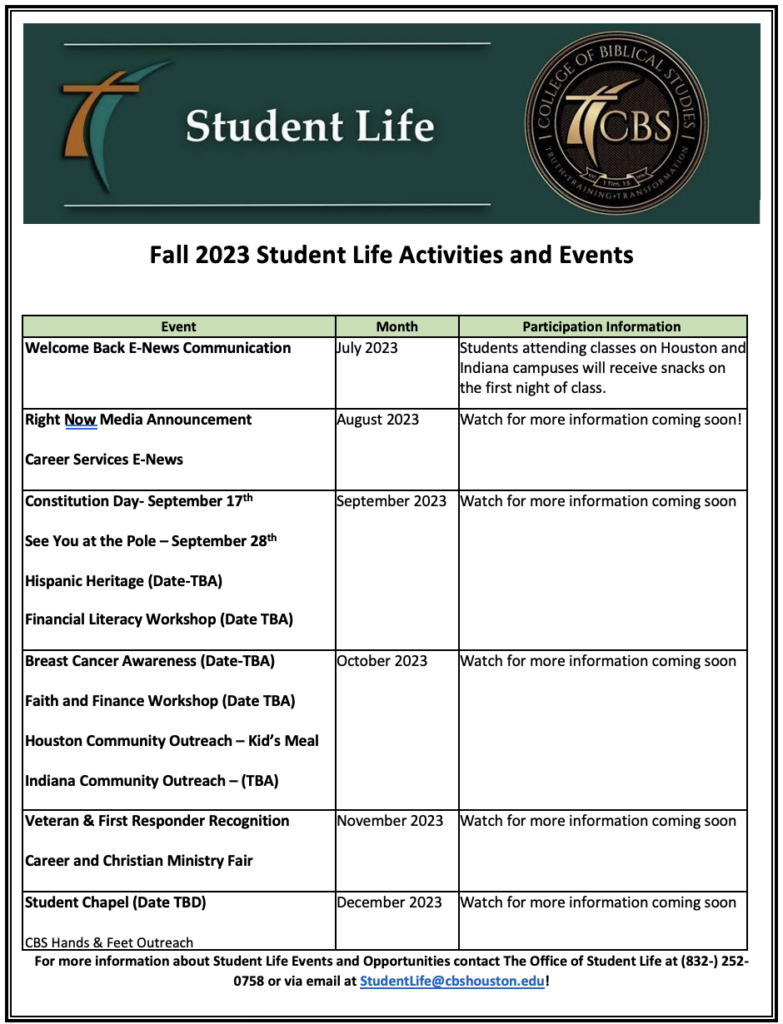 Volunteer at the College of Biblical Studies

If you are looking for an opportunity to serve as a volunteer at CBS, click here to complete a volunteer form.
If you have a prayer request you can submit it online using one of the prayer request form links below. We are always available to pray with and for you.

Chapel Services


All College of Biblical Studies students, staff, and faculty are welcomed to attend the weekly virtual chapel on Wednesdays at 2:00pm. We have a time of worship, a message from God's Word, and a time of prayer. An email is sent to your CBS email each Monday with the Zoom link. Please feel free to join us!

You can also watch previous chapel recordings on our Vimeo site or by clicking here.